FMB140
GPRS/GNSS уред за следење со функција за читање CAN податоци од борд компјутер.
CAN data reading from light vehicles, buses, coaches and trucks
Real fuel consumption and level, full mileage, engine temperature and more
CAN data reading from agriculture and special transport*
Bluetooth for external devices and Low Energy sensors
Configurable DIN/AIN for flexible remote monitoring and control
Negative input will allow easier installation of accessories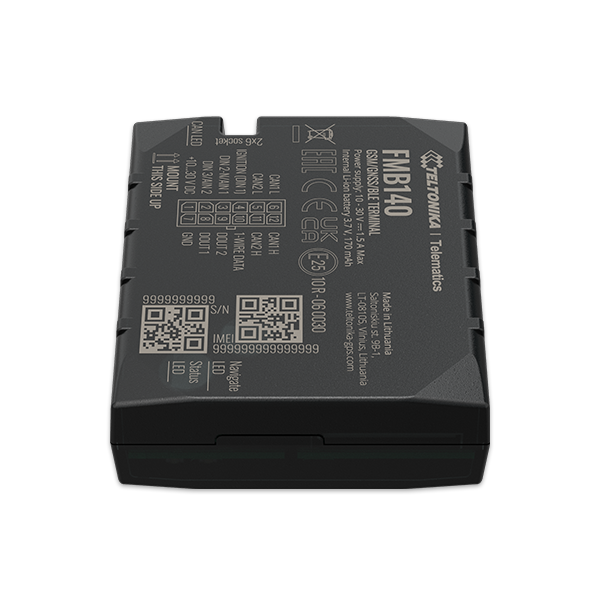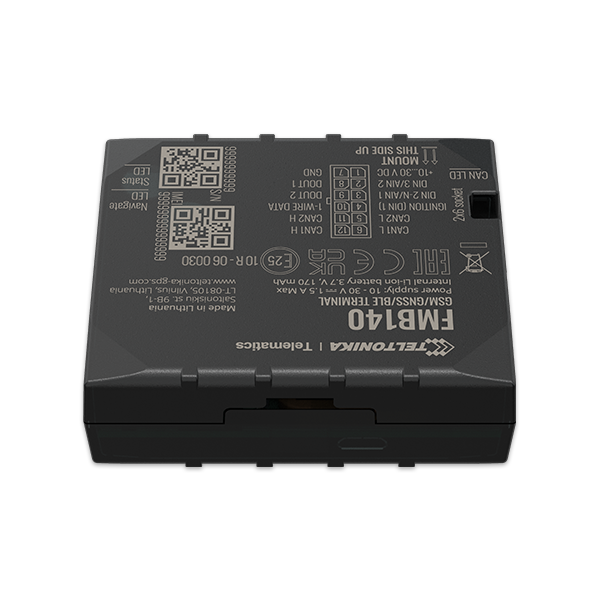 Опис за FMB140
FMB140 e напреден професионален тракер (компактно 2 во 1 решение) со вградени GNSS и GSM антени и со интегриран CAN процесор за податоци од БОРД Компјутер. Уредот овозможува читање на CAN податоци од широк спектар на возила, вклучувајќи лесни возила, камиони, автобуси и специјална машинерија. Во зависност од возилото се добиваат информации како например: брзина на движење, количина на гориво, температура на мотор, вкупно поминати километри и др.
Карактеристики
MODULE
Name
Teltonika TM2500
Technology
GSM/GPRS/GNSS/BLUETOOTH
GNSS
GNSS
GPS, GLONASS, GALILEO, BEIDOU, QZSS, AGPS
Receiver
Tracking: 33
Tracking sensitivity
-165 dBM
Accuracy
< 2.5m CEP
Hot start
< 1 s
Warm start
< 25 s
Cold start
< 35 s
CELLULAR
Technology
GSM
2G bands
Quad-band 850 / 900 / 1800 / 1900 MHz
Data transfer
GPRS Multi-Slot Class 12 (up to 240 kbps), GPRS Mobile Station Class B
Data support
SMS (text/data)
POWER
Input voltage range
10 – 30 V DC with overvoltage protection
Internal Back-up battery
170 mAh Li-Ion battery 3.7 V (0.63 Wh)
BLUETOOTH
Specification
4.0 + LE
Supported peripherals
Temperature and Humidity sensor, Headset, OBDII dongle, Inateck Barcode Scanner, Universal BLE sensors support
PHYSICAL SPECIFICATION
Dimensions
65 x 56,6 x 20,6 mm (L x W x H)
Weight
55 g
OPERATING ENVIRONMENT
Operating temperature (without battery)
-40 °C to +85 °C
Storage temperature (without battery)
-40 °C to +85 °C
Operating humidity
5% to 95% non-condensing
Ingress Protection Rating
IP41
Battery charge temperature
-0 °C to +45 °C
Battery discharge temperature
-20 °C to +60 °C
Battery storage temperature
-20 °C to +45 °C for 1 month
-20 °C to +35 °C for 6 months
INTERFACE
Digital Inputs
3
Negative Inputs
1 (Digital Input 2)
Impulse Inputs
2 (Digital Input 1, Digital Input 2)
Digital Outputs
2
Analog Inputs
2
CAN interfaces
2
1-Wire
1 (1-Wire data)
GNSS antenna
Internal High Gain
Cellular antenna
Internal High Gain
USB
2.0 Micro-USB
LED indication
3 status LED lights
SIM
Micro-SIM + eSIM
Memory
128MB internal flash memory
FEATURES
CAN Data
Fuel Level (Dashboard), Total fuel consumption, Vehicle speed (wheel), Vehicle driven distance, Engine speed (RPM), Accelerator pedal position
Sensors
Accelerometer
Scenarios
Green Driving, Over Speeding detection, Jamming detection, GNSS Fuel Counter, DOUT Control Via Call, Excessive Idling detection, Immobilizer, iButton Read Notification, Unplug detection, Towing detection, Crash detection, Auto Geofence, Manual Geofence, Trip
Sleep modes
GPS Sleep, Online Deep Sleep, Deep Sleep, Ultra Deep Sleep
Configuration and firmware update
FOTA Web, FOTA, Teltonika Configurator (USB, Bluetooth), FMBT mobile application (Configuration)
SMS
Configuration, Events, DOUT control, Debug
GPRS commands
Configuration, DOUT control, Debug
Time Synchronization
GNSS, NITZ, NTP
Ignition detection
Digital Input 1, Accelerometer, External Power Voltage, Engine RPM